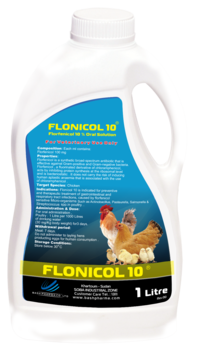 FLONICOL-10
FLORICOL-10 Oral solution
Each ml contains:
Active substance
Florfenicol 100 mg
Indications:-
Preventive and therapeutic treatment of gastrointestinal and respiratory tract infections caused by florfenicol sensitive micro-organisms such as Actinobaccillus spp., Pasteurella spp., Salmonella spp. and Streptococcus spp. in poultry.
The presence of the disease in the herd should be established before preventive treatment.
Medication should be initiated promptly when respiratory disease is diagnosed.
Usage:-
For oral administration.
The appropriate final dosage should be based on the daily water consumption. Medicated water should be used within 24 hours.
| | | |
| --- | --- | --- |
| Poultry | : | 1 litre per 1000 litres of drinking water (10 mg/kg body weight) for 3 days. |